About Harvest City Christian Academy
Who are we?

– Harvest City Christian Academy (HCCA) is an interdenominational church school (K-12) operated by Harvest City Church as an Associate School of Regina Public Schools. While maintaining its distinctive Christian character, Harvest City is supervised by the Regina Public School Division and utilizes the division's consultants, standardized testing program, professional development program and other resources. In return, Harvest City provides a Christian alternative for education within the public system.
At Harvest City we believe that a child is a precious gift from God, whose life is to be molded by the care and example of those around them. Our desire is for children to learn about the world from God's perspective, the Creator of all things. We want them to discover their gifts and callings and to be prepared to fulfill their destinies. But we especially want them to grow in their faith and personal relationship with Jesus Christ. Proverbs 22:6 says, "Start children off on the way they should go, and even when they are old they will not turn from it."

Our Vision

– to educate godly youth through biblical values, character building and academic excellence.

Our Mission

– to assist parents by providing a quality, Bible-based education in a Christian environment. This is accomplished by nurturing each child to grow spiritually, academically, socially and physically, with an emphasis on Christian values and character development.

Governance

– HCCA is jointly governed by the Boards of Harvest City Church and Regina Public Schools.
Curriculum – As a Christian alternative within the public school system, HCCA reinforces Christian values and worldview while teaching SaskLearning's CORE curriculum. That curriculum is supplemented by Christian ethics classes, chapels, Bible studies, prayer, acts of service, etc.
Funding – As an Associate School, Harvest City receives a percentage of government funding per student. To help cover the remainder of the school's operating costs, tuition is charged. Click HERE for details of HCCA's tuition.
History – HCCA opened in 1977 as an independent school with 33 students and 2 classrooms. It operated without government funding until 2002. HCCA has changed location 4 times, growing to over 270 students and 15 classrooms in its current facilities.
Facilities – HCCA is now located at 2202 8th Ave. N. in a miraculously provided 65,000+ square foot former high school on 6 acres in a quiet neighborhood in north Regina, SK, Canada. Among many other features, the building is fully networked, with a computer for each student from Grade 3 up.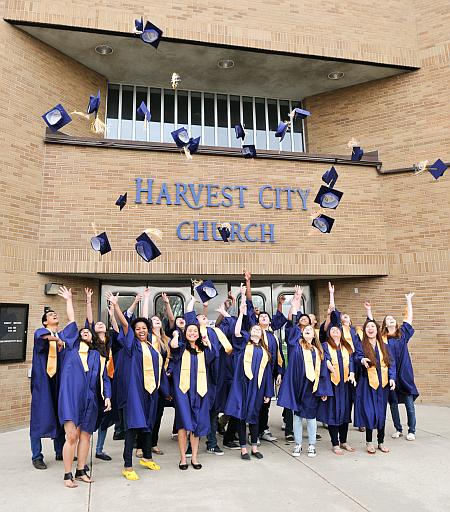 In recent years, 95-100% of HCCA graduates have begun attending post-secondary education within a year of graduating from HCCA.