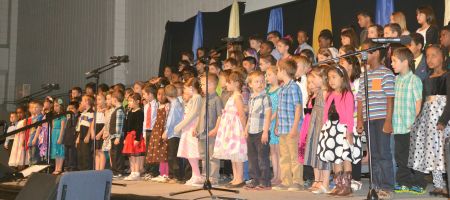 Harvest City Christian Academy (HCCA) is an interdenominational church school working in partnership with the Regina Public School Division. While maintaining its distinctive Christian character, Harvest City teaches Saskatchewan curriculum and aligns with provincial and divisional goals and initiatives, while receiving training, resources, and expertise through Regina Public Schools.
Harvest City Christian Academy is about children.
At Harvest City we believe that a child is a precious gift from God, whose life is to be molded by the care and example of loving parents and teachers. HCCA carefully selects its teachers from the Christian community, choosing individuals whose lives are exemplary and to whom teaching is a calling, not just a profession. We want children to learn about the world from God's perspective, the Creator of all things. We want them to discover their gifts and callings and so be prepared to fulfill their destinies. But we especially want them to grow in their faith and personal relationship with Jesus Christ. Proverbs 22:6 says, "Start children off on the way they should go, and even when they are old they will not turn from it."
Harvest City Christian Academy is about families.
Raising children is a parental responsibility. These are challenging times for the family. Harvest City is a ministry whose goal is to assist families of the Christian faith in the education of their children. We do not replace the home, but support it, as we reinforce the same values and beliefs that are being taught by Christian parents and guardians.
Harvest City Christian Academy is about community.
Harvest City encourages the development of community, both within and outside the church. Students have participated in many community activities over the years, ranging from neighbourhood cleanup campaigns to decorating windows in senior citizen homes. And each year, as a community event, the academy puts on an impressive Christmas program complete with singing, dancing, drama, and humour.
Harvest City Christian Academy is about learning.
Learning begins with God. Harvest City teaches the provincial curriculum from a Christian perspective, placing a high priority on literacy and numeracy. HCCA high school students receive provincial credits and transcripts for their courses.
HCCA staff are involved in continuous strategic planning in the classroom, school, and divisional levels. The results of annual provincial and divisional assessments confirm that the staff's strategies are succeeding. Many graduating students have received scholarships, both academic and sport-related, and have gone on to pursue professional careers.
As a member of Regina Public Schools, Harvest City students and teachers receive the support of educational specialists, including speech pathologists, occupational therapists, educational psychologists, and many others.
Harvest City puts a high priority on technology in education. In addition to several smart boards and video projectors, every classroom from grades 3 to 8 is equipped with a desktop computer for each student. Then in high school, each student is assigned a laptop computer they can carry from class to class for note-taking and interactive exercises. Teachers have lessons, assignments, and resources catalogued on-line, which students can access from anywhere, and parents of high school students can monitor their progress through the online 'Parent Portal'.
Harvest City Christian Academy is about God.
At Harvest City, students are encouraged to build a personal relationship with Christ through Bible study, chapel, prayer, and godly counsel from qualified individuals, as well as the example of staff and peers.
At Harvest City, we believe the Bible is the Word of God. Students memorize Scripture on a regular basis and can take Bible courses for high school credit. They will be well-equipped to continue studies at any post-secondary Bible school they might choose.
At Harvest City, we believe in prayer. We teach students to pray and believe God for the answer because nothing is too hard for Him, including salvations and emotional and physical healing.
Harvest City Christian Academy is about inclusion.
God is love, and at Harvest City, we believe Jesus' loving words,
"Whosoever will, may come"
(Revelation 22:17)
.